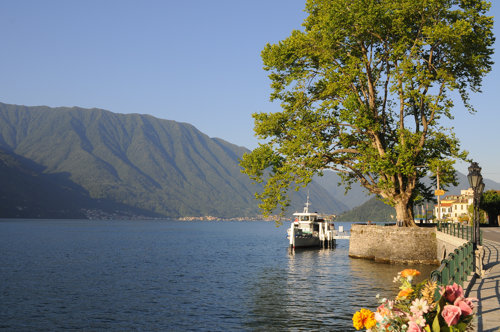 This area of the lake takes on different shapes because of the unification of the two branches, Lecco and Como. We have the wide open area between Menaggio-Bellagio-Varenna and the closed area towards Argegno. It is at this point that the mountains slope vertically into the lake and that the lake reaches its maximum depth (410 metres, the deepest of the Italian lakes.) It is an area which is rich in history with evidence of a glorious past to be discovered in the beautiful villas scattered on both banks of the lake.

In Tremezzina Villa Carlotta represents a real treasure, and in spring its gardens full of blossoming azaleas provide a spectacular view for nature lovers.
In the rooms of the historic villa there is a museum with famous paintings and sculptures. Varenna with its villas, Villa Monastero and Villa Cipressi, has reached international fame as a tourist centre and venue for Congresses.
In Bellagio, the "Pearl of the Lario", tourism is the main economic industry. Here too a destination for the elite, whilst strolling under the porticos, one can meet stars from the world of sports and showbusiness. Art has left a profound mark in this area, the history of the villas and of the picturesque villages has so much to tell us and the landscape is breathtaking.
Villa Melzi with its museum and its gardens, Villa Serbelloni with the characteristic portico of Loppia, and San Giovanni, the dividing point of the two branches, are just a few of the treasures which fascinate tourists and arouse enthusiasm amongst art lovers and admirers of artistic beauty. Even in the luxurious hotels which line the shores with cafeterias and resturants one discovers a tourism which boasts old traditions.

Tremezzo, Griante, Cadenabbia, Menaggio, Bellagio and Varenna were the localities preferred by the European nobility at the turn of the 19th century. This is the time in which tourism was born. It has since then grown into an industry which todays offers a refined hospitality with congressional facilities and where sports and leisure boats are built and exported all over the world.

It is in the central area of the lake that we reach peak accomodation capacity with different classes of hotel facilities which year by year are boosted with new important additions.
Bellagio

Few places are as romantic as Lake Como, and even fewer resorts as beautiful as Bellagio. Called the "Pearl of the Lake", Bellagio's world class hotels and restaurants provide the perfect place to soak up the lake's famous panorama.
The village ...

More »

---

Menaggio

Menaggio is situated on a small cape where the Lake Como reveals in all its awfulness. Optimal its receptive and sport equipment, graceful the dock often full of boats multicolors.

Menaggio during the war of the ten years was opposed to Co ...

More »

---

Varenna

Varenna is built upon a rock at the foot of a mountain which rises almost vertically above it, leaving the skeleton of a ruined ancient castle exposed to the sky. Its community dates back to the Roman age.

In this century Varenna ha ...

More »

---

Tremezzo

Tremezzo has given the name to the Tremezzina coast or Coast of azaleas, praised since the Middle Ages like eternal spring's place. Perhaps we must date back the name of Tremezzo to its location half way in the road between Como and Sorico (the ancie ...

More »

---

Lenno

It's an important town of the western side of the Lario, situated between the cape of Lavedo and the valley of Porlezza, at the beginnings of the coastal area called - Tremezzina- that comprises all the towns until the Maiolica.

Hidden in ...

More »

---

Ossuccio

It is an ancient town whose history merges with that of the Island Comacina.
The island, home to an important Parish Church during the first centuries of Christianity, was fortified by the Byzantines, then defeated by Autari (588) Lombards who w ...

More »

---

Griante - Cadenabbia

The village lies on a broad plateau fifty meters above the lake, opposite the peninsula of Bellagio, just where the Lario reaches its maximum amplitude.
Cadenabbia is one of the most important villages that make up the municipality, s ...

More »

---

Lezzeno

The territory of the town of Lezzeno stretches for seven kilometers along the shore of the lake, has a very particular Romanesque appearance, due to the unusual geographical position of the sun in winter and devoid of the summer moon. Every year it ...

More »

---

Sala Comacina

The small village, laid down on the western side of the Lario, to the slopes of Monte Costone, in front of the Comacina Island, reachable by boat, is one of the most characteristic towns of Lake Como.
The name takes origin from the longobard den ...

More »

---

Bellano

On the eastern shore of the lake, framed by a magnificent backdrop, on the slopes of Mount Muggio at the mouth of Pioverna and is Bellano, flourishing tourist and industrial center.

With a picturesque lakefront, where many roads lead to th ...

More »

---

Lierna

This commune consists of eleven villages scattered over a plateau area with vineyards, stretching from the shores of the lake at the foot of the Grigne and it is known, even to foreigners, tourist resort with a mild climate.
The population of V ...

More »

---

Argegno

Argegno is, among the localities of Lake Como,one of the most visited, both as a stay place and of transit. From here,Intelvi valley starts, and it links lake Como to the lake of Lugano. Argegno is far away 20 km. from Como, from where it can be reac ...

More »

---

Colonno

Between Argegno and Punta Balbianello, perched in the lake on the slopes of Mount ridge, it is Colonno, one of the most characteristic and picturesque villages of Lario.
In the Middle Ages the village, inhabited by fishermen and farmers, was par ...

More »

---

Comacina Island

The Comacina Island is the only island of the Lario.Today half-deserted, it was inhabited since the times roman.
It had monuments in paeolocristiana age already (V sec.) and it grew of importance until becoming, in the sec.XII one of i Common mo ...

More »

---