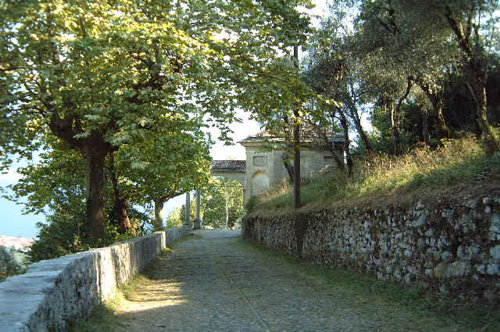 The sanctuary, on the ravine of the Tufo, was built in XVI century and it has always been destinetion of pilgrimages.
You can reach it following the big path that goes up, placed side by side by fourteen chapels of the 1700 that enclose 230 chalk statues representing the Mysteries of the Rosary.
Some of these were built with the contribution of emigrating people, that abroad found success.

The first part of the church was built up in XVI century and, as a result of following modifications and widenings reached the current aspect. Inside: above the painting of the Vergine surrounded by Sant' Eufemia and other Saints dated 1501, now in the left altar, there is the marble statue of the Madonna with Child, that the tradition says has been hidden in this place during the periods of fights and invasions. Then it was found by a deaf-mute child ,who for this was healed through a miracle, having back heard and speech.

The main solemnity of the Sanctuary is celebrated in the day of the birth of Maria (8 september) with large influx of pilgrims from all the town of the Lario.