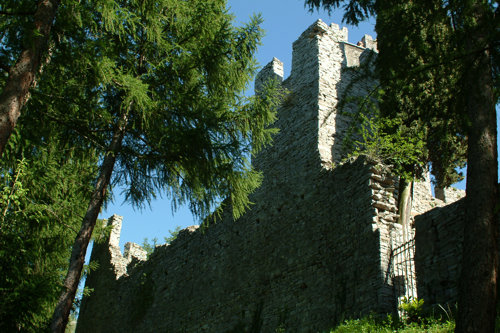 Among the thirteen villages belonging to Perledo's municipality, the hamlet of Vezio is one of the most interesting under t
It has kept its ancient features, and it hides a very long past among the restored buildings in the center.Vezio's inhabitants were probably a Ligurian–Celtic, perhaps even Etruscan, settlement, which was fought during the transmigrations by Transalpine populations from the VI to the II century b.D. Their arrival and the following raids obliged the natives to submit to them or to move to less hospitable areas, such as the valleys in the foothills of the Alps.

A fortification was erected in Vezio; it facilitated the control over the way of Riviera and the shores of the lake below; in the meantime Varenna was erected on the promontory, as berth of the main business and military shipway of the area.

The Castle of Vezio was built in the 11th century and adjusted several times. At present the Castle seems a kind of fortification with a square base, high walls and a central tower which can be reached through a raising bridge, still working. The building is encircled by a vast olive grove. The dungeons, opened to visitors in the spring of 1999, date back to the First World War.